OUR FABRICS
FROM WASTE TO CLOTHING
Sustainability has been embedded within every aspect of our brand: all pieces are crafted using recycled fabrics made from recovered ocean and landfill plastic, and we re-distribute 10% of our proceeds to environmental non-profits creating positive impact. 
We leverage recycled ECONYL® and REPREVE® techno-fabrics to produce our garments and make sure our pieces are 100% recycled, including inner linings.

ECONYL® X KYND, FOR A CIRCULAR FUTURE
We partner with Italian textile manufacturer ECONYL® to produce 90% of our pieces, including Swimwear and Athleisure. ECONYL® regenerated nylon helps close the loop. Made from waste such as fishing nets, ECONYL® has the vision to make the world a better place by pioneering closed loop regeneration processes and delivering sustainable products.
THE REGENERATION PROCESS
1- RESCUE
The ECONYL® Regeneration System starts with rescuing waste otherwise polluting the Earth, like fishing nets, fabric scraps, carpet flooring and industrial plastic all over the world. That waste is then sorted and cleaned to recover all of the nylon possible.

2- REGENERATE
Through a radical regeneration and purification process, the nylon waste is recycled right back to its original purity. That means ECONYL® regenerated nylon is exactly the same as fossil-based nylon, without the need to create new resources.
3- REMAKE
ECONYL® regenerated nylon is processed into yarns
and polymers for the fashion and interior industries.
4- REIMAGINE
As the last step, we use ECONYL® to create our products. This full process of regenerating existing plastic into ECONYL® reduces the global warming impact of nylon by up to 90% when compared with traditional nylon.
640,000 tonnes of abandoned fishing gear enters the ocean every year, equivalent in weight to more than 50,000 double decker buses.
Repreve®, PERFORMANCE ECO FABRIC
A small percentage of our products, including our matt Respire leggings are made leveraging REPREVE® fabrics.
REPREVE® is the leading performance fiber made from recycled materials. REPREVE® transforms pre and post-consumer plastics into an amazing fiber, used by the world's leading brands to make athletic and fashion apparel and more. The production process embeds properties like wicking, adaptive warming and cooling, water repellency, and more at the fiber level. For reliable, durable quality.
PACKAGING
We are proud to share that we use plastic-free packaging for all our products. Our mailers, hangtags and thank you cards are all made from FSC® certified paper printed locally in Singapore. Our products come wrapped in FSC® tissue paper, sealed with a compostable sticker. Our swimwear hygiene liners are made using wood-based bioplastic, making them compostable and biodegradable.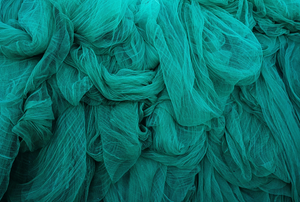 100% RECYCLED
All our pieces are made using regenerated plastic waste such abandoned as fishing nets
10% DONATED
to fund river barriers that stop the flow of plastic from going into the ocean. We partner with NGO Sungai Watch in Bali, Indonesia.
1 ITEM = 1 TREE
We plant mangrove trees to help restore damaged coastal areas and protect biodiversity